Gift Vouchers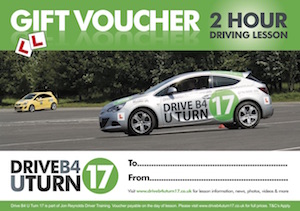 If you would like to give an under 17's driver training session as a gift but do not wish to make a booking at this time, a gift voucher can be downloaded from this page. Our vouchers can be used at any of the training dates and times stated on our website (subject to availability) but the recipient will need to confirm their booking with us before they are able to use the gift voucher.
Please note that our vouchers are merely a 'token' to place in a birthday or Christmas card - payment will only be requested when you or the recipient confirms a booking with us.
If you would like further information or you would like to make a booking please contact us via the email address at the top of this page.
Thank you for your interest in our under 17s driver training and we look forward to hearing from you when you are ready to arrange your driving session.
Download a Gift Voucher
*=REQUIRED